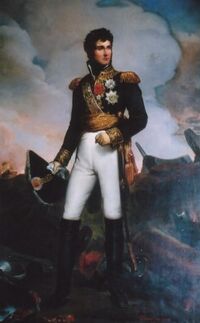 Jean Lannes, 1st Duc de Montebello, was a Marshal of France. He was one of Napoleon's most daring and talented generals. Napoleon once commented on Lannes: "I found him a pygmy and left him a giant." A personal friend of the Emperor, he was allowed to address him as "tu," as opposed to "vous."
External links
Edit
Marshals of France
Ad blocker interference detected!
Wikia is a free-to-use site that makes money from advertising. We have a modified experience for viewers using ad blockers

Wikia is not accessible if you've made further modifications. Remove the custom ad blocker rule(s) and the page will load as expected.