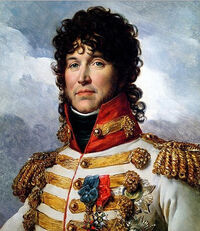 Joachim-Napoléon Murat, Marshal of France and Grand Admiral or Admiral of France, 1st Prince Murat, was Grand Duke of Berg from 1806 to 1808 and then King of Naples from 1808 to 1815. He received his titles in part by being the brother-in-law of Napoleon Bonaparte, through marriage to Napoleon's youngest sister, Caroline Bonaparte.
External links
Edit
Marshals of France
Ad blocker interference detected!
Wikia is a free-to-use site that makes money from advertising. We have a modified experience for viewers using ad blockers

Wikia is not accessible if you've made further modifications. Remove the custom ad blocker rule(s) and the page will load as expected.